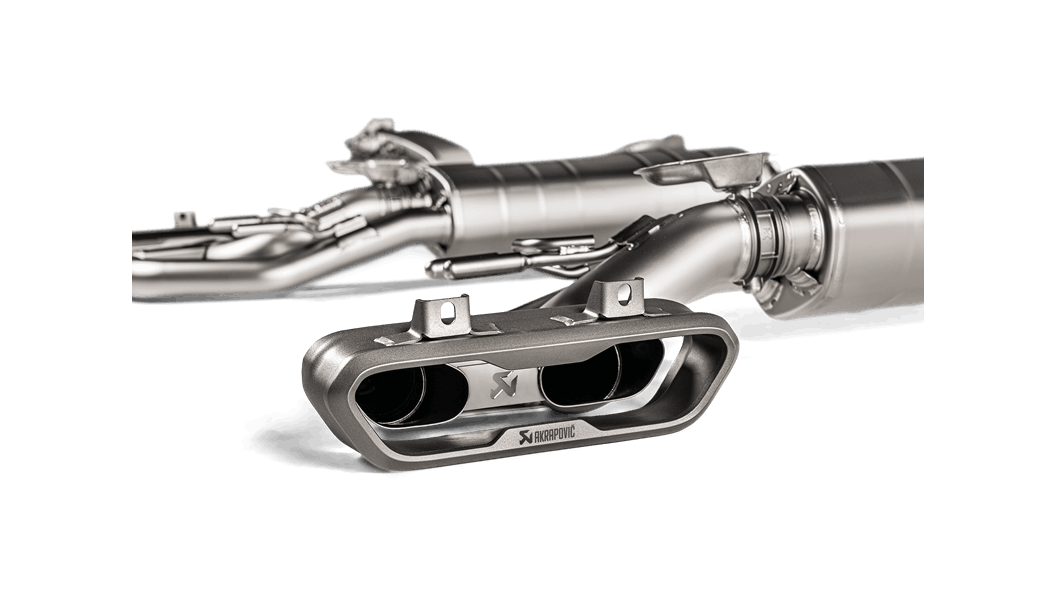 Akrapovic Mercedes-Benz W463A Evolution Line Titanium Exhaust System (G 500, G 550 & G 63 AMG)
Save

9

%
Original Price
$10,413.00
Description
The Evolution Line (Titanium) for the Mercedes-AMG G 500 has been created with durability in mind as well as performance using high-grade durable lightweight titanium, making the system 45% lighter than the stock system. It is finished with specially-designed tailpipes – fashioned in the Akrapovič foundry – exiting on either side of the vehicle, complementing the car's robust look, perfectly routed to fit within limited space. This system – with a pair of exhaust valves behind the rear mufflers to provide optimal control of the exhaust tones – delivers a unique sound that is distinctly deeper and sportier, especially during acceleration and shifting. Power and torque levels are increased through the entire rpm range.
The mandatory Akrapovic Mercedes-Benz W463A Evolution System Fitting Kit (G 500 & G G 550) is required to install this exhaust system. Sold Separately.
Fitment notice: For mounting Akrapovič exhaust S-ME/TI/5 on Mercedes G500/G550 the car has to be equipped with Mercedes stainless steel package (code PA3) or step boards on the left and right sides (code T84 or T86 or T87).
In addition to that Akrapovič fitting kit P-HF1225 and additional original Mercedes parts have to be bought:
- A 901 492 00 44 -> 4 pieces
- A 463 490 05 02 -> 1 piece
- A 463 490 06 02 -> 1 piece
Compatibility
Mercedes-Benz W463A G 500 (2019+)
Mercedes-Benz W463A G 550 (2019+)
Mercedes-Benz W463A G 63 AMG (2019+)
Warranty
Akrapovic One Year Warranty
Manufactured by
Akrapovic
Part Number
S-ME/TI/5