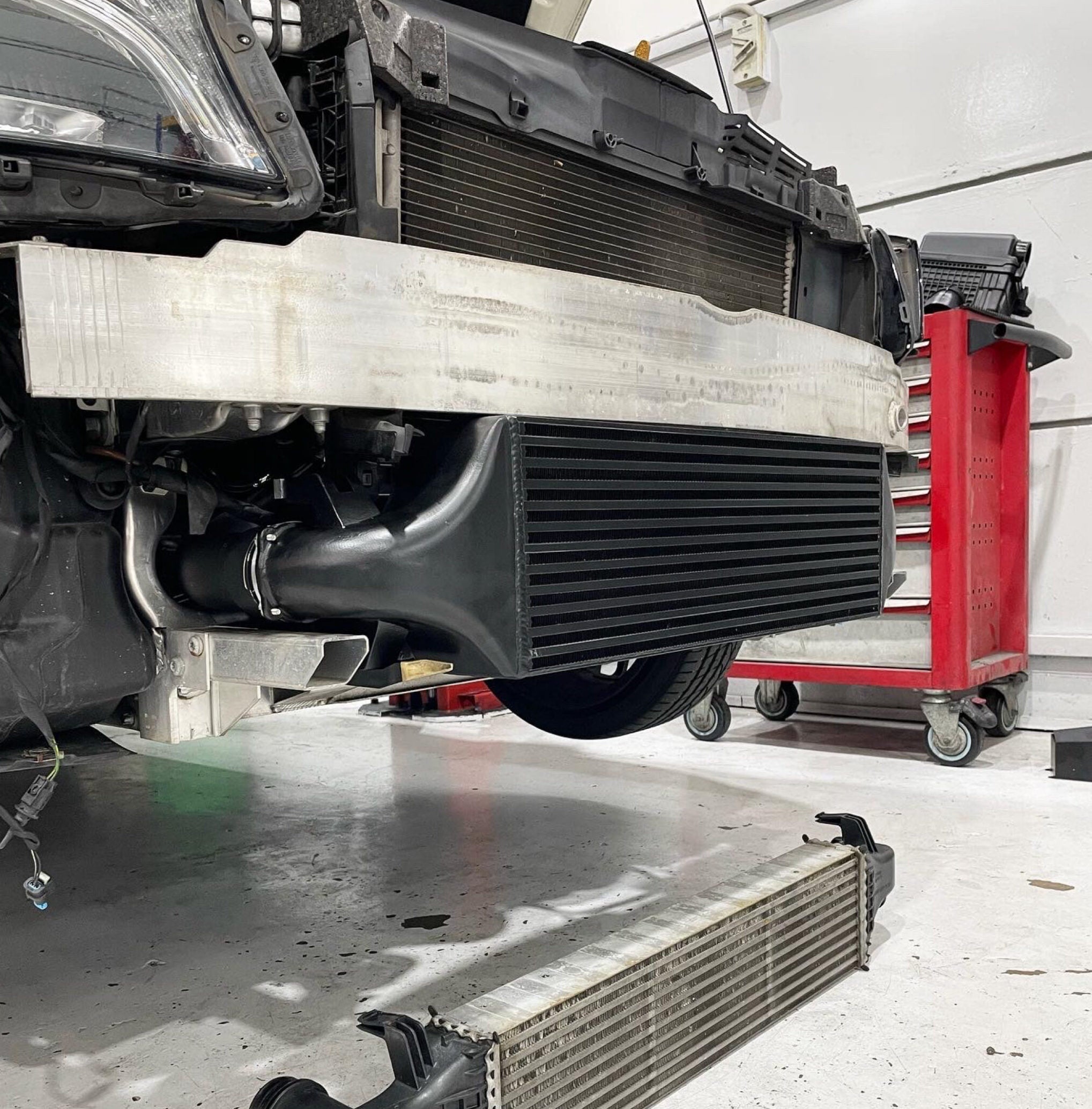 MODE Design Performance Intercooler V1 for Mercedes Benz A200 A250 W176 CLA200 CLA250 C117
Part No.
IC-MA250176-V1-MB
Note: Product may vary from image displayed.
FMIC - Front Mount Intercooler
COOL IT.

MODE Design High Capacity Replacement Mercedes Benz Intercoolers are manufactured by leading global intercooler manufacturer for guaranteed quality, reliability and proven performance. Say goodbye to power robbing heat soak and hello to cool gains!
Features a 25% larger surface area high-density core and 110% more volume compared to OEM, cast aluminium end tanks with integrated flow diverters, evo dual-pass design, fully sealed gasket free aluminium construction, and factory like fittings for a direct bolt on installation.
Specs:
MODE Design Core Size 640mm x 200mm x 110mm (

14,080

cm³)


vs. OEM Intercooler mm x mm x mm ( 6,700cm³)

Bar & Plate Design for optimal performance and durability

Plug & Play Installation using stock plumbing

No modification required to install
Mercedes-Benz
Mercedes W 176 A160 1,6L 75KW/102PS (2016-2018)

Mercedes W 176 A180 1,6L 90KW/122PS (2012-2018)

Mercedes W 176 A200 1,6L 115KW/156PS (2012-2018)

Mercedes W 176 A220 2,0L 135KW/184PS (2016-2018)

Mercedes W 176 A250 2,0L 155-160KW/211-218PS (2012-2018)

Mercedes W 176 A180 CDI 1,8L 80KW/108PS (2012-2014)

Mercedes W 176 A200 CDI 1,8L 100KW/136PS (2012-2014)

Mercedes W 176 A200 CDI 2,2L 100KW/136PS (2014-2018)

Mercedes W 176 A220 CDI 2,2L 125KW/170PS (2012-2018)

Mercedes C 117 CLA180 1,6L 90KW/122PS (2013-2019)

Mercedes C 117 CLA200 1,6L 115KW/156PS (2013-2019)

Mercedes C 117 CLA220 2,0L 135KW/184PS (2016-2019)

Mercedes C 117 CLA250 2,0L 155-160KW/211-218PS (2013-2019)

Mercedes C 117 CLA220 CDI 2,2L 125KW/170PS (2013-2019)

Mercedes W 242 / W 246 B160 1,6L 75KW/102PS (2015-2019)

Mercedes W 242 / W 246 B180 1,6L 90KW/122PS (2011-2019)

Mercedes W 242 / W 246 B200 1,6L 115KW/156PS (2011-2019)

Mercedes W 242 / W 246 B220 2,0L 135KW/184PS (2015-2019)

Mercedes W 242 / W 246 B250 2,0L 155KW/211PS (2015-2019)

Mercedes W 242 / W 246 B180 CDI 1,8L 80KW/108PS (2011-2014)

Mercedes W 242 / W 246 B200 CDI 1,8L 100KW/136PS (2011-2014)

Mercedes W 242 / W 246 B200 CDI 2,2L 100KW/136PS (2014-2019)

Mercedes W 242 / W 246 B220 CDI 2,2L 125KW/170PS (2011-2019)




Replaces Charge Air Cooler OEM Mercedes part #