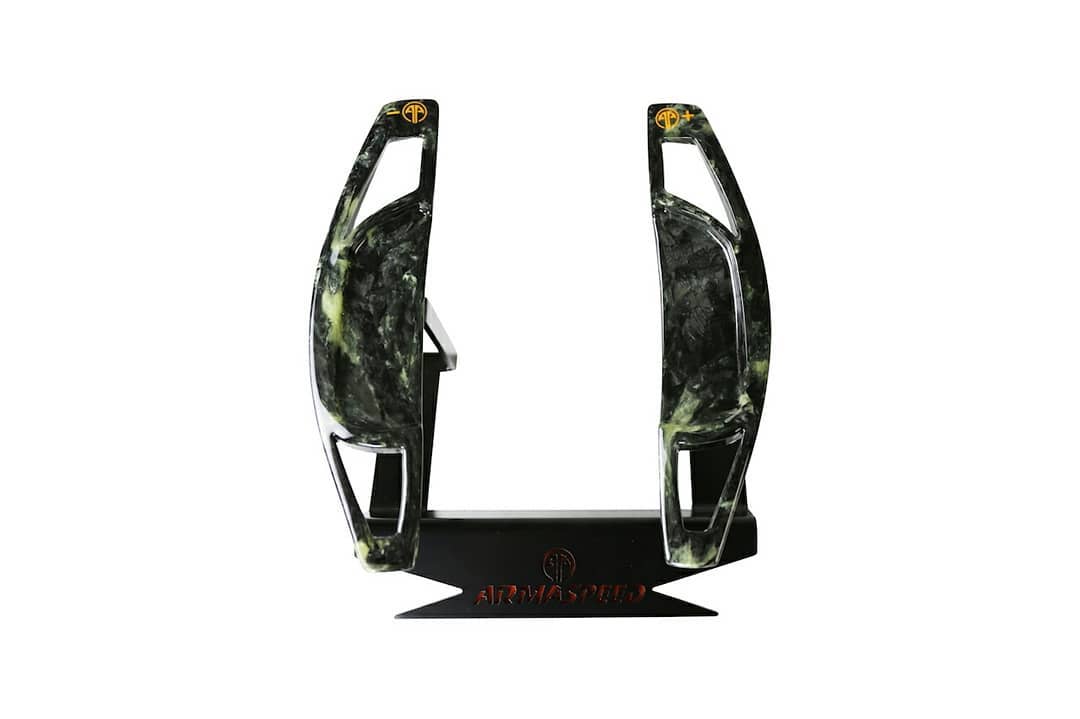 Armaspeed forged Carbon Luminous Green Paddle Shifter for Mercedes Benz AMG 2015+
Description
Armaspeed forged carbon fibre paddle shifter for the 2015+ Mercedes Benz AMG models. Luminous Finish.
These shifters light up in the dark!
Please Note:
Luminous edition contains luminous powders, a kind of light energy storage powder, which can glow in the dark after absorbing different visible light under 450 nm and can be reused. It is non-radioactive and non-toxic.
Please have paddle shifters absorb sunlight for 30 mins before installation.
The energy will emit over time, please keep re-storing energy (have sunlight get inside the vehicle or turn on the dome lights) if want them to glow again.
Compatibility
2015 Mercedes C63 AMG Coupe C205
2015 Mercedes C63 AMG Sedan W205
2015 Mercedes C63 AMG Wagon S205
2016 Mercedes C43 AMG Convertible A205
2016 Mercedes C43 AMG Coupe C205
2016 Mercedes C43 AMG Sedan W205
2016 Mercedes C43 AMG Wagon S205
2016 Mercedes C63 AMG Coupe C205
2016 Mercedes C63 AMG Sedan W205
2016 Mercedes C63 AMG Wagon S205
2017 Mercedes C43 AMG Convertible A205
2017 Mercedes C43 AMG Coupe C205
2017 Mercedes C43 AMG Sedan W205
2017 Mercedes C43 AMG Wagon S205
2017 Mercedes C63 AMG Coupe C205
2017 Mercedes C63 AMG Sedan W205
2017 Mercedes C63 AMG Wagon S205
2017 Mercedes E63 AMG W213
2018 Mercedes C43 AMG Convertible A205
2018 Mercedes C43 AMG Coupe C205
2018 Mercedes C43 AMG Sedan W205
2018 Mercedes C43 AMG Wagon S205
2018 Mercedes C63 AMG Coupe C205
2018 Mercedes C63 AMG Sedan W205
2018 Mercedes C63 AMG Wagon S205
2018 Mercedes E63 AMG W213
2019 Mercedes A35 AMG Hatch W177
2019 Mercedes C43 AMG Convertible A205
2019 Mercedes C43 AMG Coupe C205
2019 Mercedes C43 AMG Sedan W205
2019 Mercedes C43 AMG Wagon S205
2019 Mercedes C63 AMG Coupe C205
2019 Mercedes C63 AMG Sedan W205
2019 Mercedes C63 AMG Wagon S205
2019 Mercedes CLA35 AMG C118
2019 Mercedes E63 AMG W213
2019 Mercedes S63 AMG C217/A217
2020 Mercedes A35 AMG Hatch W177
2020 Mercedes C43 AMG Convertible A205
2020 Mercedes C43 AMG Coupe C205
2020 Mercedes C43 AMG Sedan W205
2020 Mercedes C43 AMG Wagon S205
2020 Mercedes C63 AMG Coupe C205
2020 Mercedes C63 AMG Sedan W205
2020 Mercedes C63 AMG Wagon S205
2020 Mercedes CLA35 AMG C118
2020 Mercedes E63 AMG W213
2020 Mercedes S63 AMG C217/A217
Manufactured by
Armaspeed

Part Number
1CCBZ40G02-L