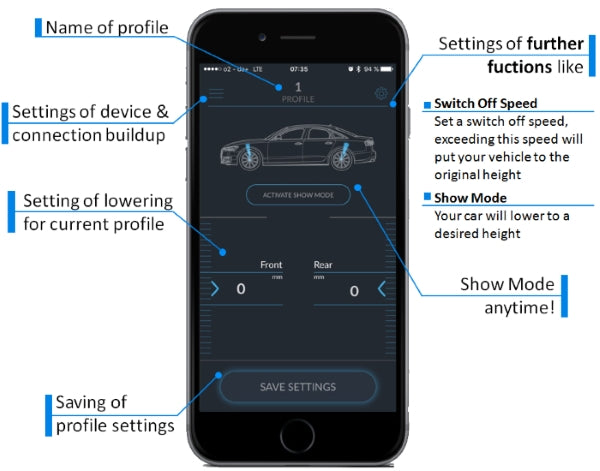 MODE Air Suspension Control Lowering Module for Mercedes GLE-Class inc. GLE53 GLE63 S AMG (W167) 2019-present
Part No.
MODE-BLE-MB-GLE_167
Note: If item is not listed with stock quantity or your vehicle requires a specific wiring harness made there may be a 5-10 business day delay prior to shipping.
PRODUCT DESCRIPTION
MODE Air Suspension Control Lowering Module for Mercedes GLE-Class inc. GLE53 GLE63 S AMG (W167) 2019-present
MODE Air Suspension Control Module allows you to lower your car with factory air suspension fitted via smartphone app with bluetooth connectivity.
Superior quality product made in Europe using OE type plugs & harnesses.
Compatibility
The A
ir
 Suspension Control Module is compatible with all engine versions of the Mercedes GLE-Class inc. GLE350 GLE400 GLE450 GLE580 GLE53 GLE63 S AMG (W167) from 2019-present.
Mercedes Benz GLE-Class W167
Mercedes Benz GLE53 AMG W167
Mercedes Benz GLE63 AMG W167
Contents
1x Air Suspension Control Module
Harness / Adapter
Installation guide
Functions
APP FUNCTIONS:
Total control
You are still able to control your air suspension via the Mercedes factory buttons.
Switch Off Speed
With the help of our app you are able to set a speed limit. Exceeding this speed will put your vehicle to the original height.
Show Mode
Lower your vehicle to a park only ride-height in the Show Mode and your vehicle will lower as desired.
Exact adjustment
If you have noticed your air suspension is slightly misaligned from factory the module will also allow you to fine tune each corner in mm increments. If this is the case your car wasn't calibrated perfectly. In order to fix this we developed a function within the app to level each corner of the vehicle.
Installation
Installation is easy, the module is a Plug & Play install and ready to use straight away. All modules are tested and certified. Adjustment can be made straight away using the original drive profiles of your vehicle.
Note
Vehicle MUST have factory air suspension fitted for this product to work
Please provide your VIN when ordering if you are unsure this product is suitable for your vehicle
Check local and state laws for compliance
Video
Download the App
Download the app from Apple App Store or Google Play Store.