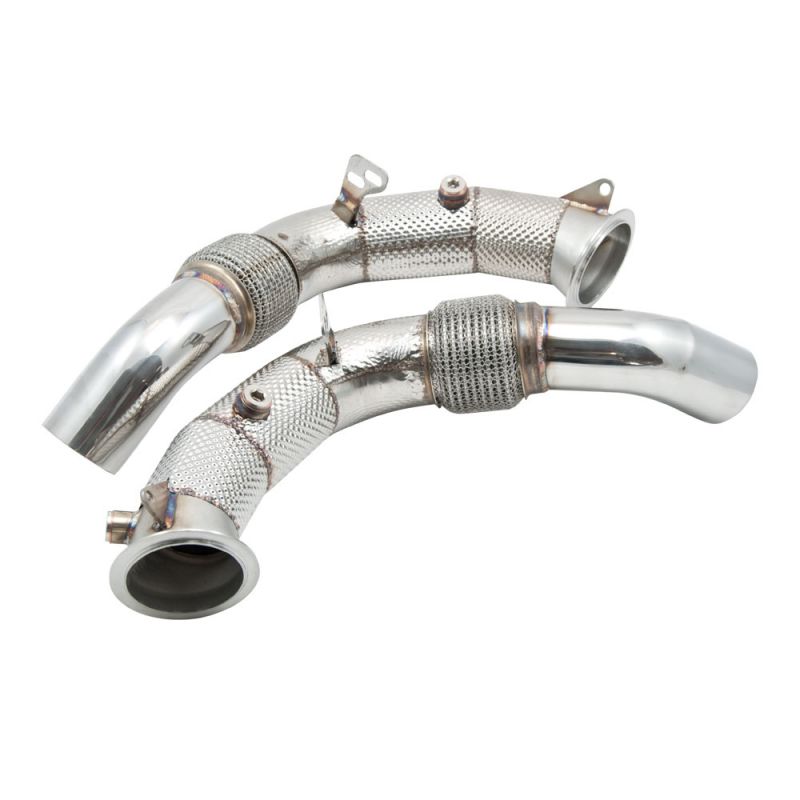 MODE Design 200cpsi Catted Downpipes for S63 BMW M5 F10 M6 F06 F11 F12
NOTE: Current catted version has full heat shield.
MODE Design 200cpsi Catted Sport Cat Downpipes for S63 BMW M5 (F10) & M6 (F06/F11/F12) S63

MODE Design.

Actions speak louder than words, so does HP. Welcome to MODE Design Downpipes, brilliantly designed taking the best assets of our original downpipes and adding some new design features we have achieved the ultimate goal, performance.

Industry leading high-flow, premium quality downpipes, designed and tested in Australia!

MODE Design Downpipes are high quality, precision hand-crafted T304 Stainless Steel, using CNC components and flanges, TIG welded in decatted or sport catted format.

MODE Design Downpipes are a direct fit with no modification required, our decatted downpipes are fitted with OEM flanges and fittings to allow an easy trouble free installation.

All MODE Products have a 100% Fitment Guarantee and Lifetime Warranty!
Downpipe Features:
Designed In-House in Australia
Suitable for RHD & LHD Vehicles
Engineered to work with our Stage 2, 3 & 4 Turbo Kits
High-Flow Design Tested up to 1,000HP
Stainless Steel Construction
Precision CNC machined flanges and fittings
MODE 100% Fitment Guarantee
MODE LIFETIME Warranty
Options:
Optional Inconel Heat Shielding with Internal Ceramic Lining *Special Order*
Replaces OE Part No.
Catalytic Converter:
18327848149 / 18327848150
Fitment:
5' F10   (06/2010 — 10/2016)
6' F06 Gran Coupé   (10/2011 — 02/2015)
6' F06 Gran Coupé LCI   (09/2014 — 09/2018)
6' F12   (03/2011 — 02/2015)
6' F12 LCI   (05/2014 — 05/2018)
6' F13   (03/2011 — 02/2015)
6' F13 LCI   (06/2014 — 10/2017)
This product is for Off-Road, Racing & Competition use only and may not be legal for use in highway or street vehicles or other non-racing competition off-road vehicles.